Mon
Tue
Wed
Thu
Fri
Sat
Sun
HKIoD Members' Delegation 香港董事學會訪問團
Chow Tai Fook FIT Space Tour 訪問周大福珠寶集團 FIT Space
FIT Space – a Chow Tai Fook hybridoffice bespoke to Finance, Corporate Governance, and IT ("FIT") colleagues is a remarkable space that is designed to support workforce agility. It is also a manifesto of total people approach to design, integrate, and foster a seamless digital workplace environment.
周大幅的混合型辦公空間FIT Space是一個標誌性項目,透過設計、融合並促進數碼化的工作環境,滿足每位財務、企業管治及IT專才對靈活工作的期望。
Date日期:                    Tue 28 February 2023
Time時間:                    14:15–16:10
Language 語言:              English and Cantonese 英語及廣東話
No. of visitors人數:         limited to a maximum of 30, for HKIoD members only. 限於最多30人,全部學會會員。
Programme流程:
14:15       
Gathering at pick-up point in Admiralty 於金鐘集合
14:25-15:00 
Coach journey 旅遊車程
– from Admiralty to World Peace Centre
41-55 Wo Tong Tsui Street, Kwai Chung
由金鐘到葵涌禾塘咀街41-55號世和中心
15:00-15:20    
CTF FIT Space Tour 訪問周大福珠寶集團 FIT Space
15:20-16:00    
Sharing & networking at Town Hall 分享與交流
Refreshments (by courtesy of Chow Tai Fook) 茶點(由周大福提供)
16:10         
Return journey to Admiralty回程至金鐘
Dress code衣著準則:Business casual 商務便服
Fee收費:                      HK$120 per person
Enquiries聯絡方法:   betty.kiang@hkiod.com 2889 9986 / toby.lee@hkiod.com 2889 0789
Finance for Directors
Course Outlines課程大綱:
1. Interpretation of Financial Statements/ 財務報告的詮釋
2. Corporate finance decisions/ 企業融資決策
3. Managing the IPO process/ 首次公開募股(IPO)程式管理
Language: English
CPD Hours: 2
Facilitator: Mr Randy Hung MBA CPA
Mr. Randy Hung is the Chairman of Training Committee of The Hong Kong Institute of Directors, the Vice Chairman of Hong Kong Investor Relations Association and CPA of Hong Kong and the State of California, USA,  He has more than 20 years of experience as CFO, executive director and independent non-executive director of various listed companies in Hong Kong.
Mr. Hung holds an MBA degree from University of London and a Bachelor degree in Accounting and a Certificate of Programming and Data Processing from the University of Southern California.  Mr. Hung also obtained a certificate in China Accounting, Finance, Taxation and Law from the Chinese University of Hong Kong, a Specialist Certificate in Corporate Finance from the Hong Kong Securities and Investment Institute, and a Certificate in Investor Relations from the UK Investor Relations Society. Mr. Hung has extensive experience in IPO, corporate finance and investor relation.
Independent Non‐Executive Directors: Role and Fulfillment
Course Outlines課程大綱 :
1.The search and appointment for INEDs / 物色獨立非執行董事和任命
2.INED skill‐sets and tactics / 獨立非執行董事的技巧與策略。
3.Board Committees in action / 董事會委員會的執行
4.Remuneration and risk consideration for INEDs / 獨立非執行董事的薪酬和風險考慮
5.Key topics for INED empowerment / 獨立非執行董事增強權能的主要關鍵
6.Evolving role of INED in the 21st century / 獨立非執行董事增強權能的主要關鍵
Language: English
CPD Hours: 2
Facilitator: Mr. Anthony Cheung HKIoD.GD CESGA FCPA (Aust.)

Mr. Anthony Cheung is the Deputy Chairman of Training Committee of the Hong Kong Institute of Directors and has over 15 years of experience as investor with experience in Asia Pacific and emerging markets, ESG and sustainable investing. Mr. Cheung is the first institutional investor in Asia who attained the Certified ESG Analyst (CESGA) designation. He was awarded Regional ESG Leader Award by Insights and Mandate (I&M) in 2019. He has recently been elected as Global Reporting Initiative (GRI) Stakeholder Council member, and appointed by the Chartered Institute of Securities and Investment (CISI) to join the Professional Assessment Panel in Responsible Finance. Apart from serving as Board Governor at Friends of the Earth in Hong Kong, Mr. Cheung is a member of Beatdrug Fund Association Investment Sub-committee, a member of LCSD Committee on Venue Partnership, and a member of Financial Services Development Council (FSDC) ESG working group.
Mr. Cheung currently serves as an INED, chairman of the Audit committee and chairman of the Corporate Social Responsibility (CSR) and sustainability committee of China Shineway Pharmaceutical Group (stock code: 2877), as an INED and chairman of the ESG committee of IPE Group Limited (stock code: 0929) and as an INED of Forward Fashion International Holding (stock code: 2528). Mr. Cheung holds a Postgraduate Certificate in Sustainable Business from University of Cambridge and BSc (Hons) in Economics from the London School of Economics & Political Science (LSE). He is a Fellow of CPA Australia.
知識管理如何協助一間上市公司取得競爭優勢
Course outlines 課程大綱:
知識管理是近年興起的企業管理題目。香港已由一個工業經濟(產出以商品為主) 轉變成為知識型經濟(產出以服務及專業貢獻為主) 。如此一來, 知識管理便成為許多企業調配資源及專業才幹以取得競爭優勢的重要途徑, 同時亦可以促進創新。
知識管理的定義及其對一家企業的重要性
知識管理: 新冒起的概念
需要知識管理的主要原因
知識管理的主要原則
戰略性知識管理
發展及維持知識文化
設立知識分享的激勵機制
知識管理的基礎
知識管理的使用
知識管理者的主要挑戰
個案分享
Language: Cantonese
CPD Hours: 2
Facilitator: Dr Norman Law
Dr. Law is a veteran banker with more than 30 years' experience in the finance sector. He was director and deputy general manager of Nanyang Commercial Bank Limited, and head of financial management of Bank of China (Hong Kong) Limited, He was involved in the re-structuring and listing of BOC Hong Kong (Holdings) Limited in 2001 and 2002.
Dr. Law is an independent non-executive director of SH Group (Holdings) Limited, a company listed on the main board of Hong Kong Stock Exchange (stock code: 1637).  Training Committee member of the Hong Kong Institute of Directors, a Panel Member for the Subject Advisory Panel of Certified Banker Programme of the Hong Kong Institute of Bankers, and a specialist of Hong Kong Council for Accreditation of Academic & Vocational Qualifications.
Dr Law graduated from the Chinese University of Hong Kong with a bachelor of business administration degree. Also obtained MBA from Brunel University, UK, Master of Science in Finance from City University of Hong Kong and Master of Business (Accounting) from Monash University, Australia.  In October 2011, he was conferred Doctor of Business Administration by the Hong Kong Polytechnic University, major in finance and accounting. Moreover, he possesses a number of professional qualifications, including U.S. Certified Management Accountant (CMA), Certified Banker (CB), and Certified Financial Management Planner (CFMP).  He also holds the International Certificate in Banking Risk and Regulation from the Global Association of Risk Professionals (GARP).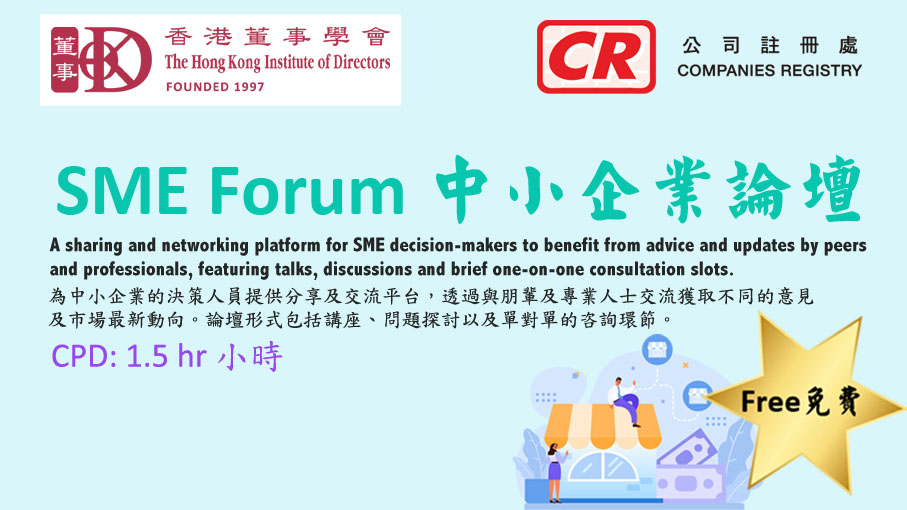 Date 日期:Friday 17 March 2023 ● 2023年3月17日(星期五)
Theme 主題: SME Start-up Stage: Entrepreneurship Challenges & Experience Sharing 中小企初創階段:創業困難與經驗分享
Host & Speaker 主持及講者:
Prof John Mok, Chairman of HKIoD SME Committee & Chairman of AML Holdings Limited
香港董事學會中小企委員會主席及藝美達集團有限公司主席 莫建鄰教授
Mr Dominic Ho, former Executive Director of Design Square & Associates, former President and Consultant of Industrial Designers Society of Hong Kong
曾任設計廣場行政總裁, 香港工業設計師協會會長及顧問 何偉明先生
Dr Joe Leung, Principal Consultant-Growth Strategy, Organisational Learning Consultancy Ltd
企業學習顧問有限公司「增長策略」首席顧問梁永忠博士
Time 時間:
3:00-3:05pm – Speaker Introduction By Prof John Mok 莫建鄰教授介紹嘉賓
3:05-3:15pm – Introduction to "Corporate new Venturing" By Prof John Mok 莫建鄰教授介紹"集團內創投新業務單位"
3:15-3:45pm – Presentation by Mr Dominic Ho 何偉明先生演講
3:45-4:15pm – Presentation by Dr Joe Leung 梁永忠博士演講
4:15-4:30pm – Q&A 問答
4:30-5:00pm – One-on-One Consultation Session exclusively for HKIoD members
Platform 平台:HKIoD Zoom Platform 香港董事學會Zoom平台
Language 語言:Cantonese 粵語主講
Fees 費用:Free of charge費用全免
Remarks 備註:
1. Participants are welcome to email their questions related the topic 2 working days prior to the event via email to project.executive@hkiod.com
如有任何提問,歡迎參加者將問題於論壇舉行兩個工作天前電郵至 project.executive@hkiod.com
2. HKIoD members, who wish to register for a slot in the One-on-One Consultation Session, are required to register in the booking form below. Only one slot will be arranged for each member.  As time slots are limited, reservation will be entertained on a first-come-first-served basis.
會員如欲參加單對單咨詢環節,請於下列表格上登記。每位會員只能登記一節咨詢環節。名額有限、先到先得。
3. Seats are limited and reservation will be entertained on a first-come-first-served basis. 活動名額有限,先到先得。
Speaker Luncheon Meeting 午餐演講會
Hosting in The Hong Kong Club by Dr Carlye Tsui Conway on behalf of HKIoD
Speaker:
Ms Katherine Ng 伍潔鏇女士
Head of Listing 上市主管
Hong Kong Exchanges and Clearing Limited
香港交易及結算所有限公司
Theme主題:
HKEX's Regulatory Outlook and Priorities
香港交易所監管焦點與展望
Tuesday 28 March 2023 ● 2023年3月28日 (星期二)
12:30 pm Drinks 十二時半恭候   1:00 pm sharp Luncheon 準一時就座
Venue 地點:The Harcourt Suite, 1/F The Hong Kong Club, 1 Jackson Road
CPD: 1 Hour 小時
Language 語言: English英語
Fees 費用:For members會員每位@HK$570
For members' guests invited and accompanied by members
由會員邀請及陪同之賓客每位@HK$640
Dress Code 衣著準則:Business Attire 商務服裝
Enquiries 聯絡方法:Mr Toby Lee 李先生 2889 0789 / Ms Odessa So 蘇小姐 2889 4988
Limited seats.
Advance booking on first-come-first-served basis.
名額有限,請預先報名登記,先到先得。
Powered by Events Manager